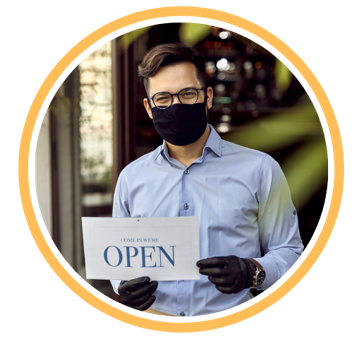 Challenge Goal
Help Massachusetts companies pivot their operations to produce innovations that support reopening processes.  We welcome any innovation that can support one or more of the following re-opening directives, as well as other directives found at https://www.mass.gov/info-details/reopening-when-can-my-business-reopen.
Program Overview
Companies will be selected for a five-week acceleration toward a new or expanded capacity to produce goods and services in support of the state's re-opening. Priority will be given to companies that have the potential to deliver solutions at scale in a short period of time.
During the challenge program, intrapreneurs will develop prototype(s), business plans, market analysis, and go-to-market strategies. On August 21, intrapreneurs will present their plans to a panel of experts. This panel will select one team to receive a $25,000 COVID Intrapreneur Challenge grant award.
Although just one team will win the Challenge, all participating companies will benefit from the COVID Intrapreneur Challenge program. Participants will have access to manufacturing know-how, to various domain experts, to raw material providers, and to prospective purchasers.
- Closed for Submissions -
Winner Announced!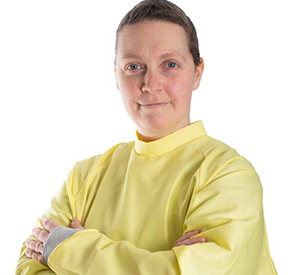 CareAline
On Friday, August 21, 2020, a panel of expert judges declared CareAline of Danvers Massachusetts the winner of the second COVID-19 Intrapreneur Challenge! Watch the announcement of the winner here.
In standard times, CareAline creates common-sense medical safety garments. In response to the pandemic, CareAline began work on producing reusable isolation gowns. CareAline's gown design features a high collar to protect the chest and neck, a Velcro fastener that reduces contamination when removing the gown, and even thumbhole cuffs to help keep the cuff inside the glove, protecting the wrists. Learn more about CareAline and their Intrapreneur Challenge win here.
Finalists
View the Challenge 2 Finalists list below. For more details on the Finalists visit https://leverinc.org/covid-19-challenge2.
CareAline Products
Danvers, MA
Pyxis Global
Lawrence, MA
Flexcon
Spencer, MA
Quanta Collaboration
Somerville, MA
Landmark Finish Inc.
Andover, MA
Shear Color Printing Inc.
Woburn, MA
Northeast Biomedical
Tyngsborough, MA
TrueBounce Inc.
New Bedford, MA
Phillips Enterprises Inc.
Northampton, MA