October 04, 2023
Source: Lever Inc.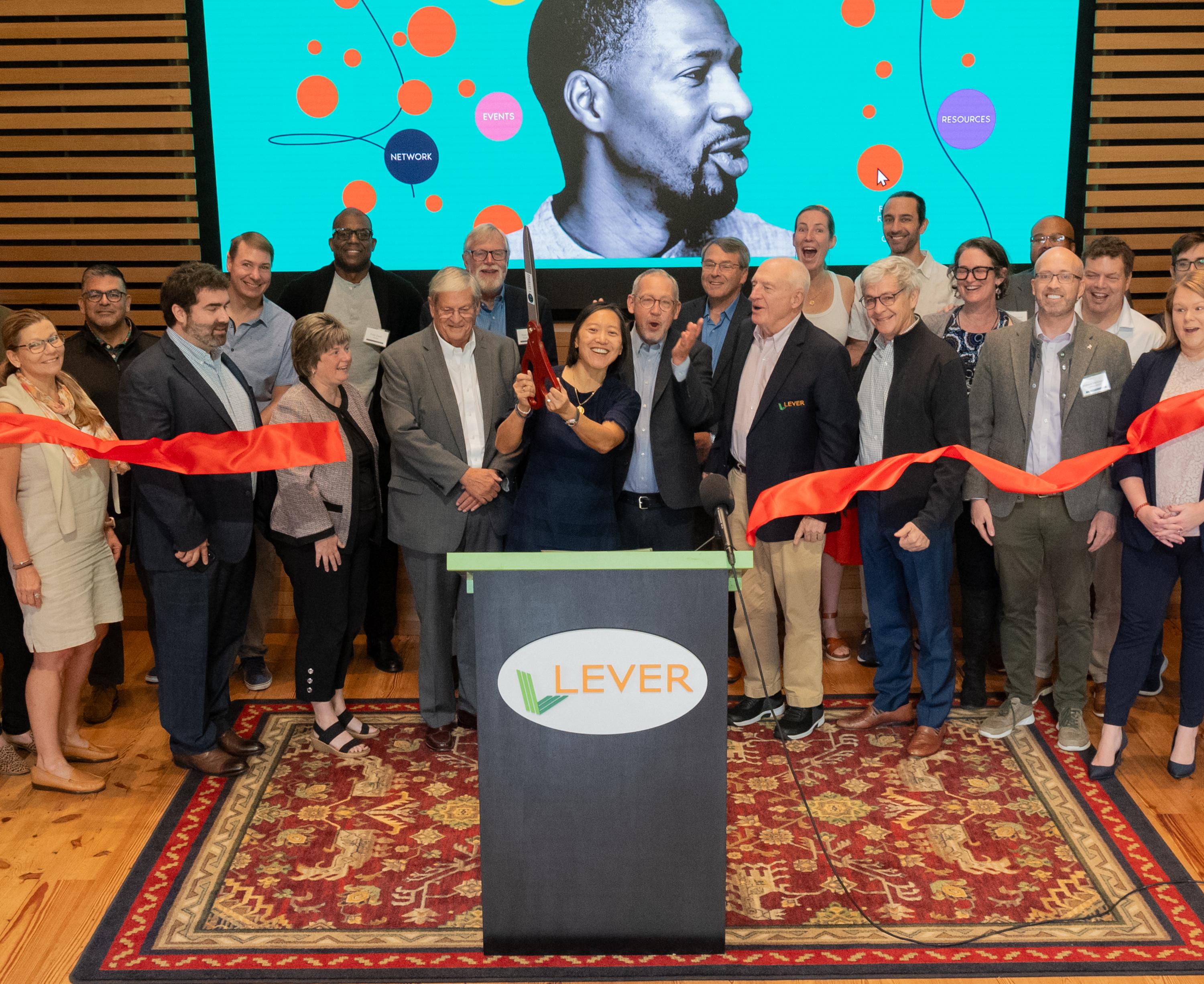 Executive Office of Economic Development (EOED) Secretary Yvonne Hao, center, Joins Lever and innovation ecosystem stakeholders from across the state for an official ribbon cutting for the Massachusetts Founders Network. Eric Korenman photo)
NORTH ADAMS, MA — Lever welcomed friends and colleagues from across the state on Oct. 3-4 to announce the launch of The Massachusetts Founders Network (MFN), a new initiative that gives startup founders equitable access to resources that will help their companies grow.
"We know that there are innovative, brilliant companies across Massachusetts with the potential to scale, and we know they don't all have connections to resources, friends and family to fundraise from, and existing networks from which to tap talent," said Lever Executive Director Jeffrey Thomas. "With MFN, we can support founders no matter where they are in Massachusetts–and ultimately level the playing field when it comes to connections, capital, and other support."
In addition to providing resources like expert advice, discounts on startup software, and rundowns on essentials like non-dilutive funding and AI, MFN builds community by encouraging member networking and highlighting the good work done in regional ecosystems across the state, ensuring that founders can easily find and access resources–including funding–that can help them succeed. 
Leaders from entrepreneur support organizations (ESOs) in every Massachusetts region, as well as Executive Office of Economic Development (EOED) Secretary Yvonne Hao, were present to celebrate the announcement. 
MFN is produced by Lever and supported by funding from and collaboration with the Massachusetts Technology Collaborative, based in Westborough. MFN was built with the help of an advisory board of successful founders and ecosystem leaders throughout the state.
"We work every day to make sure companies across the state – regardless of their size, geography, or sector – can start and grow here in Massachusetts," said Economic Development Secretary Yvonne Hao, who chairs MassTech's Board of Directors. "Our support of the Massachusetts Founder Network through MassTech will give founders opportunities in every part of the state by providing the tools and resources they need to put their big ideas into action."   
"The continued health of the Massachusetts startup ecosystem is dependent on a larger and more diverse set of entrepreneurs gaining equitable access to startup resources," said Megan Marszalek, Director of Entrepreneurial Ecosystems at MassTech's Innovation Institute. "MFN creates a space for demographically and geographically diverse founders to not only find resources, but also be seen and heard.  The stories told through MFN will inspire a new generation of founders to believe in their ideas and find resources to support them along every step of their entrepreneurial journeys."
New Lever Board member Brent Heeringa said "Lever was the first investor in my startup Valt, which was acquired by Dropbox in 2019. The Lever team does a great job supporting founders, so I'm delighted to see it expand its programs through the Massachusetts Founders Network."
Snapshot: MFN Resources
Connections with other Massachusetts startup founders 
Guidance from Massachusetts-based industry experts 
In-person and virtual networking and skill-building events
One-on-one opportunities to consult with industry experts
Guides on startup insurance, fundraising, non-dilutive funding, and more
Directory of Entrepreneur Support Organizations for easy reference
Ongoing assistance and direction, including connections to external resources
Regular check-ins and support from the MFN team
Advice, perspective and experience from founders, experts and ecosystem supporters via the MFN Journal
About Lever
Founded in 2014 and based in North Adams, Mass., Lever is an economic development non-profit focused on innovation-driven job creation. Lever supports entrepreneurs with startup expertise, investment capital investment fund, research, mentors, and access to talent. Lever has helped launch dozens of companies that have attracted more than $250M in equity investment and have created more than 300 jobs. Lever supports existing companies by helping their intrapreneurs "innovate from within" using proven entrepreneurial methods for top-line revenue growth and job creation. Learn more at www.leverinc.org.
##