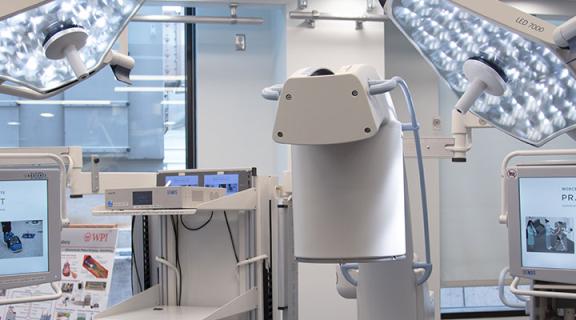 Focus region:  Central Mass.
Project partners:  Worcester Polytechnic Institute (WPI), GE Healthcare Life Sciences (Global), University of Massachusetts Medical School (Worcester), the Mitre Corporation (Bedford).
Lieutenant Governor Karyn Polito joined MassTech to award $5 million to Worcester Polytechnic Institute (WPI), part of an overall $17 million project which will enable the development of infrastructure to support the launch of a new landmark healthcare research and product development initiative called PracticePoint at WPI.
During the launch event at Gateway Park at WPI in Worcester, Mass., speakers highlighted the collaborative public-private partnership and how it will advance innovative healthcare technologies and grow a trained workforce in the region. In addition to MassTech's investment, GE also committed $2.5 million in support for the project.
"Worcester Polytechnic Institute prepares the next generation of scientists and engineers that we need at GE and GE Healthcare Life Sciences to continue our work of enabling clinicians and researchers to discover, develop and deliver life-changing therapies." - Ger Brophy, General Manager at GE Healthcare Life Sciences
The PracticePoint facility will provide simulated healthcare settings and integrate them with advanced research and development infrastructure, enabling companies large and small to test and evolve their technologies. Multidisciplinary academic and industry teams will conduct pre-competitive research at PracticePoint to advance the entire field. The center will also offer a range of educational and training opportunities for workforce development to support the growing digital health industry in Massachusetts, which already boasts over 350 companies. 
The center will feature four settings -- surgical, clinical, rehabilitative, and home healthcare -- in a single research and development facility. The new testbeds will accelerate digital health product development cycles by providing rapid point-of-practice testing that co-locates healthcare practitioners and technical teams, advanced manufacturing infrastructure, and testing technologies, while integrating secure data analytics and equipment to test technologies for cybersecurity vulnerabilities. 
To learn more about the project or to find out how to become a partner, contact Sharon Deffely, Executive Director, Academic & Corporate Engagement at WPI at 508-831-5635 or sdeffely@wpi.edu or Joseph D. Downing, Senior Advisor for the Innovation Institute at Mass Tech Collaborative at 508-870-0312 or downing@masstech.org.
(Photos courtesy MassTech and Worcester Polytechnic Institute.)